We just supercharged our network

Sonassi has always been proud of its incredibly high performance network, which for years has provided superb up-time, performance and capacity. But despite it being good, it wasn't great, we recognised we could make it even better.
We promised that this year we'll be bringing in a series of amazing service upgrades, upgrading our network is phase one.
A blueprint for our new network
Our customers deserve more capacity, so that when you run high traffic campaigns, we've got more than enough bandwidth to cope
Our customers deserve break-neck speed, to really drive page load times down and improve your visitor's experience
Our customers deserve security, dDoS attacks are becoming more frequent and we needing scrubbing to support it
Our customers deserve resilience, you know the saying "don't put your eggs in one basket", the same applies to connectivity
For months we've been strategising the architecture and deployment of our new network and thanks to some enormous efforts on behalf of our network engineering team; we've finally got something to show you. Understanding just how big an upgrade this is needs perspective, so here's what our old network used to look like,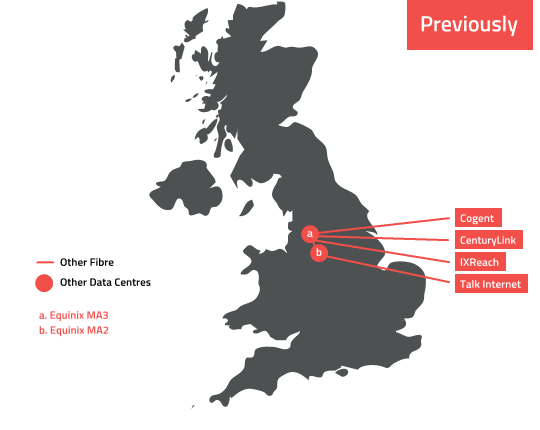 And after a few month's hard work, splicing fibre, deploying routers, security service provisioning and configuration, it started to take shape. The upgrade introduces almost eight times the capacity to our internet connectivity - it wasn't exactly small before, but now its huge.
So, 8 of our own data centres, 5 third party facilities and 2000km of fibre later; we've now got a phenomenal, high capacity, high performance, exceptionally resilient fibre network - that we can truly call our own.
---
So what can you expect?
Everything we've ever offered and more! Domestic UK connectivity will massively improve through improved peering at the likes of LINX and IX Manchester; European connectivity will improve through peering at Amsterdam and Paris; connectivity to America has been boosted by bigger pipes and more of them - but it doesn't just stop there. Our global connectivity now extends deep into the rest of the world with a total of 25 global locations due to come online within the next 12 months. In addition, we've improved our dDoS scrubbing capacity even more - so we can continue to fend of off dDoS attacks without your business being hurt.
Sonassi just went global - and when you feel ready, you can take your business global too! Here's a sneak peak of things to come,
Wondering how we've managed to create one of the UK's largest fibre networks and deliver amazing connectivity to the world? You can thank our adopted parent!
This is the beginning of an amazing series of service upgrades we are delivering (but I can't share more just yet!), but after months of working with the amazing minds at iomart; our newfound colleagues; we're going to be able to bring amazing things to our customers.