Routing complications at LINX

This issue should be resolved and updates are being tracked on our LINX routing post.
It seems that the London Internet Exchange (LINX) are currently experiencing problems. Our connections to LINX are no longer carrying traffic and this is having an impact on some clients who would normally cross LINX to reach us. We do not currently have information on the precise cause but the issue has been reported by other IPs connecting at LINX.
We will provide more information as soon as we have it, but unfortunately it seems that the problem is outside our network and outside our control.
Date: 09/12/2009 Time: 17:20 Effect: Increased latency and packet loss for some routes into the our network
UPDATE: LINX Graphing Report
The highlighted regions show where the network was experiencing significant delays.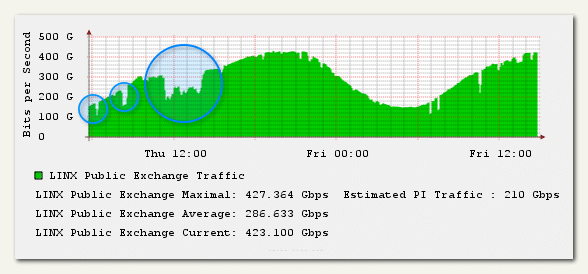 Network status can be tracked via theclientarea.info. Community thoughts can be followed on Twitter: Twitter #linx